Review: Harry Potter and the Half-Blood Prince (DS)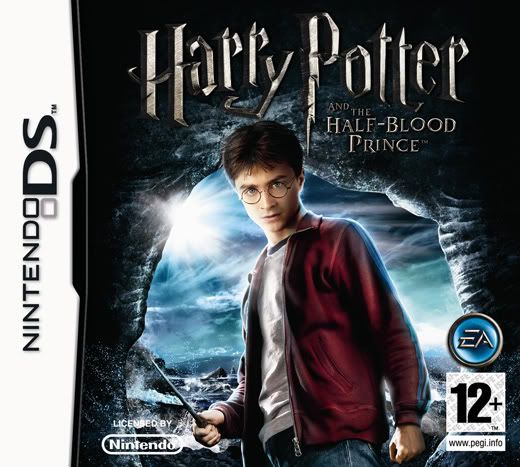 Having played and reviewed the Wii version I wasn't sure what to expect from this incarnation of Harry Potter and the Half Blood Prince.  As a rule of thumb the Wii and DS versions of any game are normally quite different given the set of restrictions each system has.  Both games have the same story, which is hardly surprising given that these are based on a film of the same name, which I can only assume sticks close to the source material.  Don't worry though, all you Harry Potter fans out there, I promise not to give away any spoilers.
You might expect both the Wii and DS versions to be similar given that they follow the same story but I find the DS version to be much more enjoyable.  The main difference is that the stylus actually does what you ask it to as opposed to the erratic Wii-mote which seems to have a mind of its own sometimes.  The other main difference I found is that this game, possibly due to the film itself being based on a novel, feels very much like a book and the DS is a more natural system in helping this story unfold.
The bulk of the game is a basic detective adventure in which a character will ask you to find an item and after a series of similar tasks for other characters you return and are rewarded with yet another item which can be used to access a different area and progress the story.  I found this process on the DS to be much more enjoyable than the tasks on the Wii version as it feels more like you're playing through chapters in a book rather than hammering your head against a wall of mind-numbing repetitiveness.
The visuals and music are pretty good and, while the notion may seem crazy in these times of graphics-above-all-else, the fact that the DS isn't capable of being as "realistic" as the Wii version works to its advantage as the end result is more basic and less creepy.  I certainly had a lot more fun playing this version and it was a far less frustrating experience and while I'm not a fan of the series it's a nice change of pace from the blood and guts I'm used to.
This game will obviously appeal more to children than adults, and I can easily recommend this to younger fans of the Harry Potter novels and films, but I can imagine that some of the more mature fans of the series may also find a lot of enjoyment here.  The fact is that since you either love or hate the bespectacled Paul Daniels wannabe if you fall into that "love" camp then this will most likely feature on your shopping list regardless of what I or anyone else has to say.
7/10
Other TTB Posts Like This One
Author: Tigervamp