Review: GI Joe: Rise of Cobra (DS)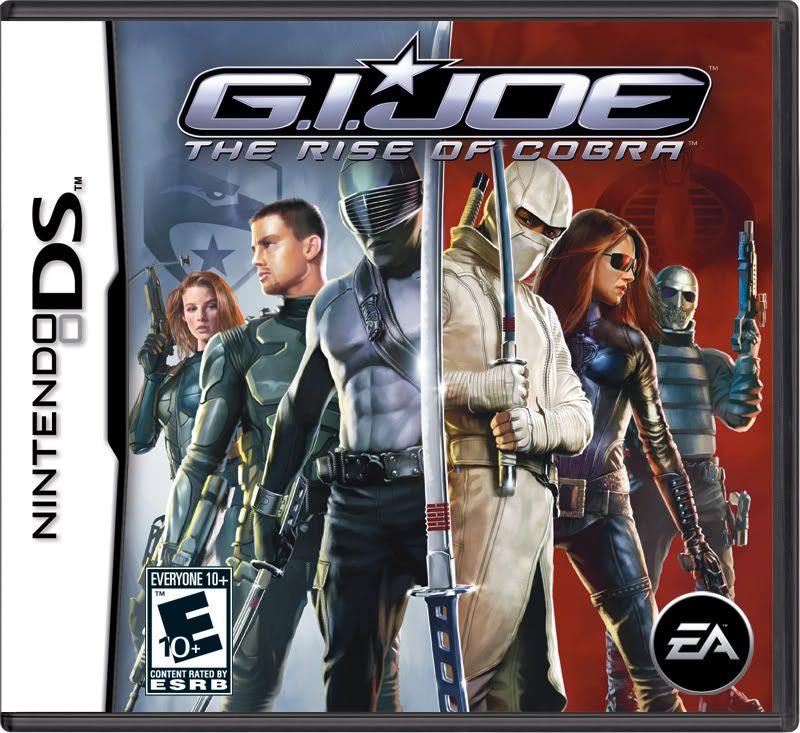 There are many reviewers out there who will compare this game to Gauntlet and may even describe this as a clone of that game.  I want to shoot that idea down because this game plays more like Mercs, Chaos Engine, and Rambo III than Gauntlet.  I have never been happy with the word "clone" as it suggests a copy which is inferior in some way.  This game is certainly not inferior to Gauntlet and I don't care if that has classic status because anyone who has played it recently will testify that it's painfully basic and looks horrible.  Anyone who describes this game as being a Gauntlet clone and then goes on to say that the graphics are poor or the story isn't very detailed is an absolute moron as the story is non existent in Gauntlet and the graphics are enough to make your cultured eyes bleed.
The graphics are a little fuzzy round the edges and there's a lack of detail on the backgrounds but I quite like this as for me it has a sort of retro appeal which works well with the type of gameplay this title has to offer.  The music is okay and the sound effects, especially of gunfire, is pretty satisfying.
I haven't seen the film and have little intention in doing so and because of this I can't tell if the story here is accurate or not and to be honest with you I really don't care.  From what I can tell there are two different kinds of people.  There are those who want an adaptation to be accurate to the original, regardless of what format the adaptation is on, and will moan until the end of days about how the spider in LOTR was in the wrong movie.  On the other hand there are those people who love something in one format and accept, and in some cases they may even hope, that an adaptation will be different from the original source.  I fall into the latter group and as long as the core of a story isn't messed with I just want an adaptation to be enjoyable.  Besides, this is a GI Joe film we're talking about here, it's not exactly going to win any awards for best script.
Holding down the fire button while using the D-Pad to control which direction you're firing in is simple but effective and in this respect it reminds me a lot of Rambo III on the Sega Megadrive.  Thankfully though I found this game to be less stressful than that retro classic as it doesn't feature many of those panicky moments where you're asked to run through loads of enemies to escape an area in one piece.
This game won't last you a long time but having said that there is some replay value in choosing to play as different characters as the experience points you earn with each increases their stats which includes the amount of damage their weapon causes.
GI Joe: Rise of Cobra is a lot of fun and it's one of those games you can pick up and play for twenty minutes and then put down again until next time.  Sometimes the kind of game I want to play is one which allows me to run around and cause a lot of damage and this is a good example of that.  I recommend this title to anyone who feels like switching off their brain for a few hours and experiencing that "old fashioned" style of run and gun gameplay on their DS.
7/10
Other TTB Posts Like This One
Author: Tigervamp